75-Cesar Chavez/Lombard
75-Cesar Chavez/Lombard connects Milwaukie, SE Portland, Hollywood, N/NE Portland and St. Johns, via Harrison, 32nd, Johnson Creek, 45th, Cesar E Chavez Blvd, 42nd, Columbia, Dekum and Lombard.
Effective August 27, 2023
We've moved Line 75 out of Hollywood/NE 42nd Ave Transit Center to serve temporary stops on NE 42nd, Broadway and Halsey. This will allow for safe and reliable transit operations during renovation of the transit center and construction of the HollywoodHUB affordable housing development. Access will be maintained to and from the Hollywood Transit Center MAX Station.
We also extended evening service to Milwaukie on weekends.
Line 75 Route Map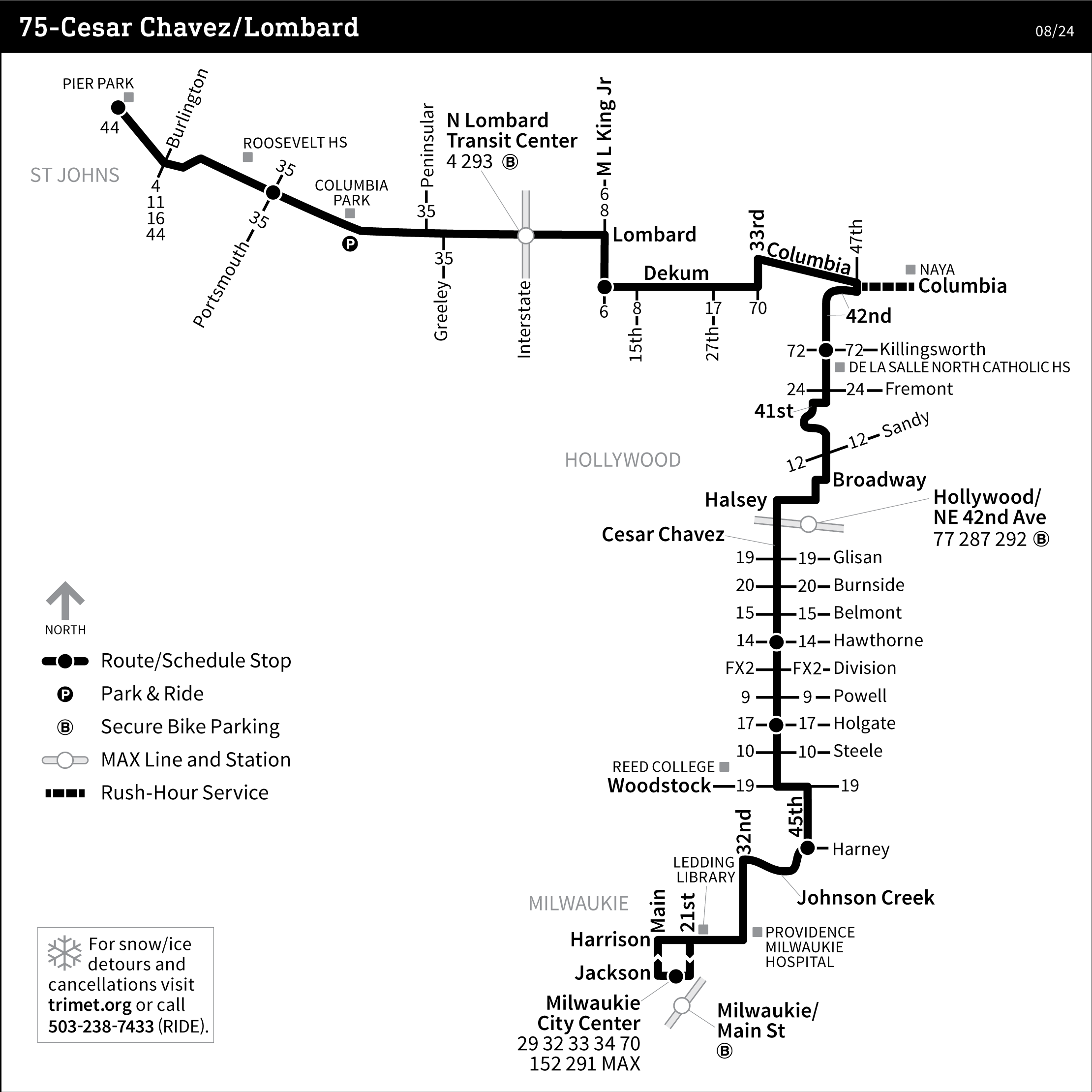 Line 75 Schedules
Monday—Friday
Saturday
Service alerts in effect:
No service to the southbound stop at NE 42nd & Prescott (Stop ID 7525) due to construction. More
For trips to St. Johns, if construction is blocking the stops, no service between SE 32nd & Olsen and SE 32nd & Floss. More
The northbound stop on NE 42nd & Killingsworth (Stop ID 7520) is closed due to construction. More
Beginning Sunday, September 24, Line 75 will resume regular service on NE MLK Jr Blvd, NE Dekum and NE 33rd Ave from earlier NE 33rd Ave bridge construction. Buses will no longer travel along NE Columbia Blvd between NE MLK Jr Blvd and NE 33rd Ave. More
As of Sunday, August, 27, lines 75 and 77 moved out of Hollywood Transit Center due to construction. Board using the temporary stops located on NE 42nd, Broadway and Halsey. Access has been maintained to and from the Hollywood Transit Center MAX Station. More information can be found at: trimet.org/servicechange More
The northbound stop at Cesar Chavez & Halsey (Stop ID 11487) is closed due to safety issue. Use Line 77 stop at Cesar Chavez & Sandy (Stop ID 7484). More
Get Line 75 updates by email