Reserved Bike Lockers
If you're a regular MAX or WES rider, you might want the convenience of renting your own secure bike locker. Lockers are available at most stations and at some Park & Ride lots and transit centers.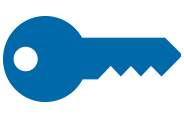 Keyed access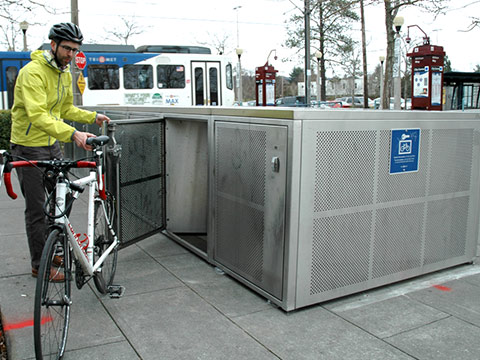 How to rent a locker
Check the locker status list below for availability, then email bikelockers@trimet.org or call 503-962-2104 to reserve your locker (or get on a waiting list). Please provide your full name, the location(s) you're interested in and your daytime phone number.
Locker rental is $25 for each 6-month billing cycle, plus a one-time $50 refundable key deposit.
Rentals can begin at any time
Both rent and the key deposit are due when you sign up
There are 2 billing cycles per year: May 15–November 14 and November 15–May 14
Rent is due promptly on May 15 and November 15
Rent is prorated to $15 if you sign up with less than 3 months remaining in the 6-month billing period
If you don't want the commitment of your own reserved locker, there are also first-come, first-served electronic bike lockers (eLockers) available
Locker status
Westside MAX stations
Washington Park:
available
Sunset Transit Center:
available
Beaverton Central:
available
Millikan Way:
available
Beaverton Creek:
available
Merlo:
available
Elmonica:
available
Willow Creek Transit Center:
available
Quatama:
available
Fair Complex/Hillsboro Airport:
available
Hatfield Government Center:
available
Eastside Rose Quarter to Gresham MAX stations
Gateway Transit Center:
available
E 122nd:
available
Civic Dr:
available
Gresham Central:
available
Gresham City Hall:
available
Eastside I-205 MAX stations
SE Main St:
available
SE Division St:
available
SE Powell Blvd:
available
SE Holgate Blvd:
available
Lents Town Center/Foster Rd:
available
SE Flavel St:
available
SE Fuller Rd:
available
Clackamas Town Center Transit Center:
available
Eastside Interstate MAX stations
Albina/Mississippi:
available
Overlook Park:
available
N Prescott St:
available
N Killingsworth St:
available
Rosa Parks Blvd:
available
N Lombard:
available
Kenton/N Denver Ave:
available
Delta Park/Vanport:
available
Expo Center:
available
WES stations
Hall/Nimbus:
available
Tualatin:
available
Wilsonville:
available (Call SMART at 503-682-7790)
Bus-only transit centers
Milwaukie Park & Ride:
available
More