High School Access Transit Program
School Year Pass Program
This program will provide approximately $700,000 for fare assistance during the 2021-2022 school year.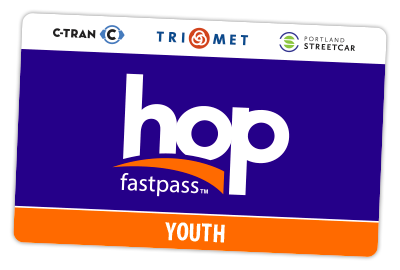 $1.25 – Ride for 2½ hours
For ages 7–17 and students in high school.
Learn more
Program background
In an effort to continue to expand access to the region's public transportation system, TriMet is expanding its "Access Transit program" to offer public transportation grants to high schools across Clackamas, Multnomah & Washington Counties.
Using resources from the "Keep Oregon Moving" HB2017 legislation, TriMet is engaging in a program to support an annual grant process of approximately $700,000 to provide fare assistance to the qualifying school districts with high schools located in TriMet's service district.
TriMet is committed to keeping public transportation affordable to vulnerable populations, including low-income youth. The goal of the Access Transit: High School Program initiative is to collaborate with school districts across the tri-county region to connect low-income students with fare supports and resources to help increase their ability to access the region's public transportation system.
Additional Information
You may be eligible to receive free tickets or passes through your high school. To find out if your school is participating in the program, please contact your school counselor or email our program administrator.
If you are between the ages of 15 and 21 and are interested in providing your voice to this and other relevant TriMet programs, please consider applying to our Youth Advisory Subcommittee.
Application and selection process
The application period for the 2022-2023 school year will open in May.
Program requirements
Submit an Access Transit: High School Program application to TriMet's Department of Equity, Inclusion, and Community Affairs.
Represent public high schools within the TriMet service district that serve students from Clackamas, Multnomah or Washington county.
Possess the administrative capacity to coordinate a high school distribution program that will connect students eligible for free and reduce lunch with fare resources at the high school level.
Agree to report to TriMet on the distribution of free ticket resources on a quarterly basis and an annual on-site compliance check for each participating school.
Agree to not resell received tickets.
Who can apply?
This program is for school districts within TriMet's service district. To participate, high schools must be located within TriMet's service district and process the administrative capacity to coordinate the distribution of tickets and passes to qualifying students.
Program participants will be asked to complete a short student survey upon being accepted into the program.
For questions, please contact program administrators.
---
Application
Having trouble with this form?
You can also download and complete the application, and email it to program administrators.