Fares and Hop Fastpass on LIFT
A list of valid fares and information about the Hop Fastpass on LIFT.
How to pay
Important notice about LIFT paper passes and punch cards
As of January 1, 2023, LIFT monthly passes and punch cards are no longer available for purchase, and punch cards are no longer accepted on LIFT vehicles. You can exchange any remaining punches for Hop credit through March 31, 2023, by calling Hop Customer Service at 844-694-6722.
Each LIFT ride costs $2.50. Customers must pay a fare or show proof of payment when boarding. Valid fares include:
A LIFT personalized Hop card with valid fare loaded
Request your personalized LIFT Hop Card by calling LIFT Customer Service: 503-962-8000, option 2
Cash fare in exact change (operators cannot give change)
One LIFT paper ticket
A TriMet issued badge
Companions/Personal Care Attendants
A Personal Care Attendant (PCA) riding along with a LIFT customer does not pay a fare. Customers may bring along one companion in addition to a PCA, this companion would pay the full $2.50 fare. Companions cannot pay with a Hop card on board LIFT.
Hop Fastpass on LIFT
Hop Fastpass is the easiest way to pay with LIFT! Once you are determined eligible for LIFT you will receive your own personalized LIFT Hop card, which can be used onboard TriMet buses, trains, and LIFT vehicles.
For more information on how using Hop can help you, read through the Hop on LIFT User Guide:
Other ways to pay
C-TRAN
Rides on C-TRAN Express during peak hours are valid on LIFT within the 2½-hour transfer window when a LIFT Hop card is used. Valid C-TRAN fares must be on a rider's LIFT Hop card in order to be accepted on LIFT.
Non-accepted fares
LIFT does not accept the following as valid payment of fare: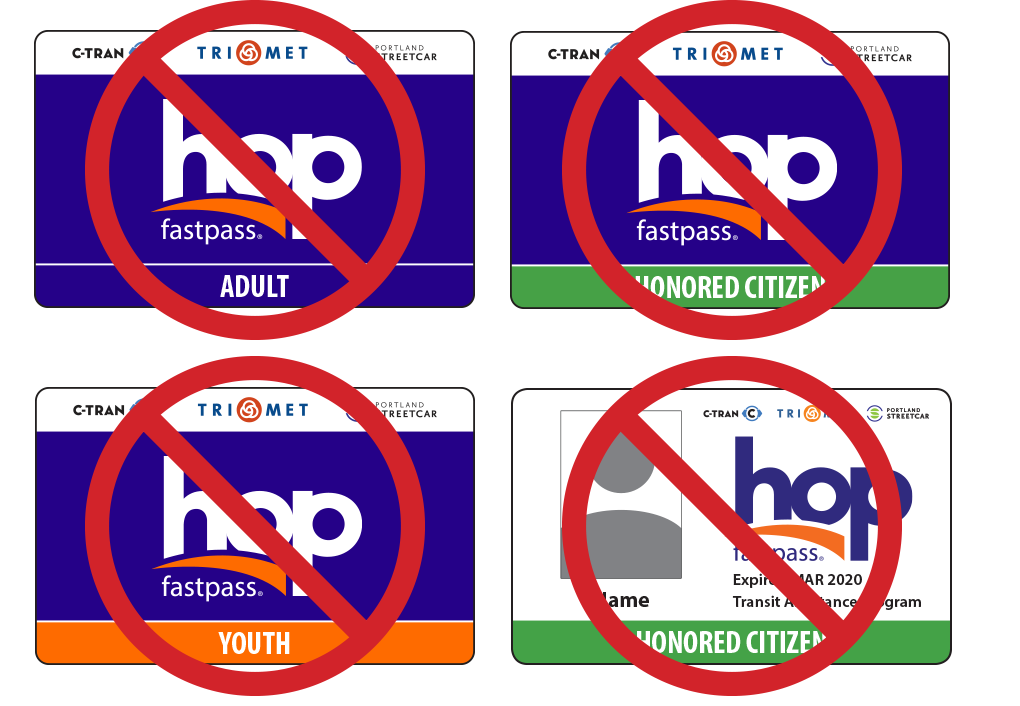 Honored Citizen, Adult or Youth Hop cards
Adult, Honored Citizen or youth paper Hop tickets
Personal checks
Non-US currency
Electronic credit cards such as Apple Pay or Android Pay
Credit cards
Personalized universal pass Hop cards (contact LIFT at 503-962-8000, option 2, to find out how to convert to a LIFT Hop card)