TriMet is Proposing to Discontinue the Downtown Portland Pass in Fall 2022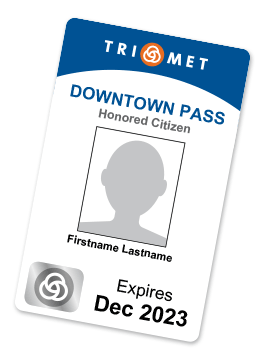 The Honored Citizen Downtown Portland Pass was originally created to support our Honored Citizen riders when the Free Rail Zone went away in 2012. But today, very few riders use the pass, as most people opt for the standard Honored Citizen fare (which allows for travel beyond Downtown). Also, while we would love to continue offering the pass at its very low price ($10 for 2 years), it's not equitable or sustainable given our current fare structure.
TriMet's Board of Directors to make a decision in September 2022
Our Board of Directors plans to vote on the proposal to discontinue the pass at their September 2022 meeting. If the board votes to discontinue the pass, here's what you can expect:
We will no longer renew existing passes as of September 29, 2022.
The Downtown Portland Pass will no longer be accepted on TriMet as of December 31, 2022.
To help riders during this transition, we will give all current Downtown Portland Pass holders a free 2-year Honored Citizen pass loaded on a Hop card (see details below).
In the meantime, as of July 1, 2022:
TriMet is no longer issuing new Downtown Portland Passes.
We are currently only renewing Downtown Portland Passes that expire between May 1 and September 28, 2022.
How to claim your free 2-year Honored Citizen pass
If the Board of Directors votes at its August meeting to discontinue the pass, TriMet will give all current passholders a free 2-year Honored Citizen pass on a Hop card. To claim your pass, visit the TriMet Customer Support Center at Pioneer Courthouse Square (701 SW 6th Ave.), open Monday through Friday 8:30 a.m.–5:30 p.m., between September 29 and December 30, 2022. Here's what to bring with you:
Proof of your current Downtown Portland address (photo ID or utility statement)
Proof of your valid Honored Citizen status (photo ID showing date of birth, Honored Citizen card, or Medicare card).
If you have questions or feedback about this proposed change, please call us at 503-962-2455.