Boarding the Bus With a Mobility Device
Each bus has a ramp or lift
Low-floor buses have boarding ramps that the operator can deploy upon request. Older high-floor buses are equipped with power lifts for anyone who can't use the stairs to board.
How to board the bus
Wait in view of the operator
Wait in the middle of the bus stop where the operator can see you. That way when your bus arrives, the operator will know to deploy the ramp or lift, which helps save time.
If you need the ramp or lift, just ask
If you need to use the ramp or lift and the operator has not already deployed it, just ask. He or she can assist you if you need help guiding your mobility device onto the ramp or lift.
Priority seating and securement areas
On board, look for the priority seating area near the front of the bus. Two securement areas are provided for mobility devices. The operator will help secure your mobility device.
Press the signal strip to request a stop
Press down on the signal strip or pull the cord along the window to let the operator know you want the next stop.
Getting off the bus
When the bus stops, the operator will remove the securement straps from your mobility device, and deploy the ramp or lift for you.
Tips for using the lifts on high-floor buses
Set the brakes on your mobility device and turn off the power.
If you are standing on the lift, be sure to hold onto the hand rail.
Lifts can hold mobility devices up to 30 inches wide and 48 inches long, weighing up to 800 pounds when occupied.
A personal attendant may ride the lift with you.
Backing your mobility device onto the lift may make it easier to maneuver into the securement area inside.
Securement
On board, the bus operator will help secure your mobility device to ensure a safe and comfortable ride. The illustration below shows how different types of mobility devices are secured: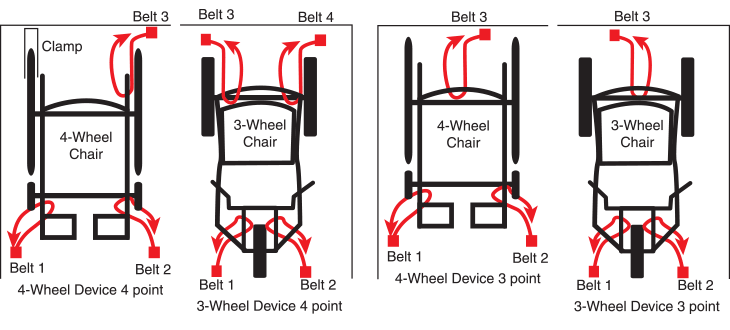 Segways®
You can bring Segways on buses when used as a mobility device due to a disability. (Note: Segways must be turned off when boarding, riding and exiting the vehicle.)
Alternative Wheeled Mobility Device
If you have an alternative wheeled mobility device, please complete the ADA Reasonable Modifications form found here: